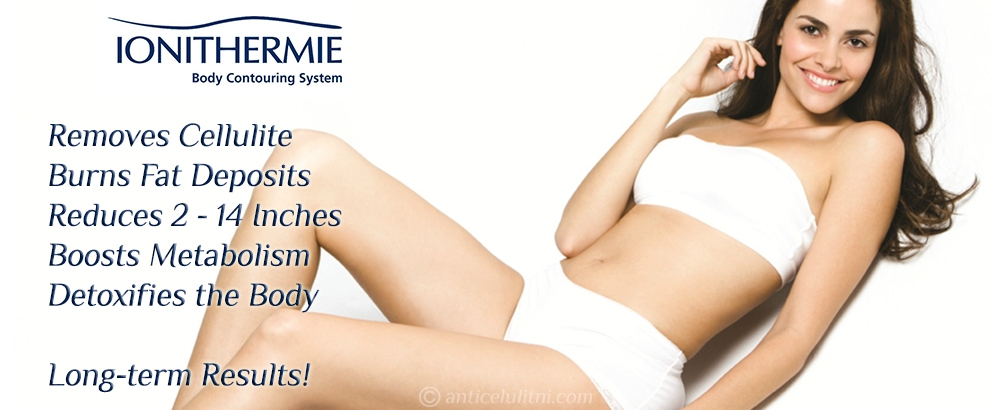 Ionithermie – acclaim and reputation as the outstanding body improvement treatment has extended far and wide throughout the professional market.
There are no other cellulite treatments such as Ionithermie. On one hand they are slimming treatments that melt fat deposits, on the other hand Ionithermie is used for treating cellulite and a number of health problems.
Inonithermie is a cellulite treatment that can be applied to both men and women. Ionithermie is unique due to the wide range of positive effects on the body:
– Ionithermie removes cellulite, helps in weight loss, detoxifies and firms thighs, hips, buttocks, abdomen, waist, chest and upper arms.
– Instant slimming in problem areas and figure shaping
– Men gladly melt stubborn love handles and beer belly.
– Works great for people with problems such as water retention, poor circulation and slow metabilism.
– Ionithermie is successfully used for muscle stimulation and mobility improvement in athletes and physically active people.
Ionithermie was invented in 1979 by French biochemist Olivier Fouche. Originally developed to treat arthritis, many added benefits become quickly evident.These benefits include detoxifying the body, emulsifying cellulite, slimming and toning while increasing metabolic rate.
The therapy has gone through 7 years of clinical researches and trials; the results indicate 1 – 8 inch loss in the treated areas of the body at 96% of the subjects.
In 1983, this amazing body corrective therapy started in the UK. Since then, Ionithermie has become favorite anti-cellulite treatment of millions of satisfied customers from all over the world, including celebrities such as Victoria Beckham, Paris Hilton and Heidi Klum.
Ionithermie is well known cellulite treatment around the world. It is the most common choice of therapists and plastic surgeons for noninvasive and immediate cellulite reduction, slimming and detoxification. It is not surprising that you can find so many posts about Ionithermie in the most prestigious journals.
Except in the magazines, Ionithermie is seen in many TV shows and newscasts: ABC, Access Hollywood, Good Morning America, Fox and others.
"I've seen treatments like Ionithermie shrink thighs by an inch in circumference." Oprah Magazine
"Electrical Stimuli, thermal clay and algae boost the metabolism and tone bottom muscles." Marie Claire Magazine
 
 
"Stubborn cellulite can be strong armed at a day spa with mechanical body contouring treatments that go far deeper than human touch." Spa Magazine
"Ionithermie is ideal for brides because sometimes the loss of a few inches can make their dresses fit better." Renew Magazine
 
 
"Gracias a Ionithermie, el novedoso tratamiento detoxificante que combina ingredientes naturales con estimulos electricos, reduce sus muslos y su vientre entre 1 y 8 pulgadas por sesion, mientras descansa comodamente." People Magazine (En Espanol)
"Ionithermie is the ideal treatment for dieters who want a thinning boost, or anyone desperate to fit into tight jeans by next Friday." NY Post
 
 
"Ionithermie is a revolutionary skin treatment combining galvanic and faradic stimuli, thermal clay and essential plant extracts. You may have experienced these treatments on international cruise ships or travels abroad." Vogue Magazine
"This treatment helps products deeply penetrate the skin in order to rebalance, replenish, and re-hydrate the skin"  American Spa Magazine
 
 
"fast becoming the leading treatment for the reduction of cellulite and improvement of skin and muscle tone" D Magazine

Marie Claire Body Special "Win The War on Cellulite" Marie Claire Magazine

 
 
"slimming, firming, and inch-loss on the arms, abdomen, thighs and hips is achieved" American Spa Magazine

"All of us who would like a tighter tummy should try outan lonithermie treatment …It works brilliantly." Elle Magazine

 
 
"It's the best weight loss treatment I have tried and the results are seen from the first treatment." Health & Beauty Magazine

"My bottom is rock hard now and my flabby thighs and slack tummy muscles are very firm." Company Magazine
 
"I lost a total of 4.4" from my thighs and I felt slimmer. My skin looked firmer and less dimpled, and it felt very soft and smooth." Woman's Journal Magazine
"Very relaxing! A single session produces silky, toned skin and visible inch loss. " Options Magazine
 
 
"The measurements taken afterwards showed that my breasts had lifted by a quarter of an inch and they definitely felt firmer." Vogue Magazine
Body Treatment: $170.00    |    Course of 6 includes 1 FREE: $840.00